Scholarship Programs
The National Federation of the Blind believes in investing in the future by supporting the college education of deserving legally blind students. Our state and national scholarship programs are the most generous in the country. We urge you to apply to both.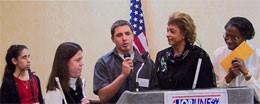 Apply for a 2020 NFB of California Scholarship
The National Federation of the Blind of California is seeking well-rounded, dynamic, and driven blind undergraduate and graduate students to apply for our 2020 state scholarship! We will award up to three scholarships in amounts of at least $1,000 to California residents or students attending a college/university within the state of California. Any legally blind, full time college or graduate student may apply, as well as graduating high school seniors who will be attending college full-time in the Spring or fall of 2021.
Check out www.nfbcal.org/nfbc-scholarship-guidelines for eligibility information and to apply. We look forward to reviewing your application